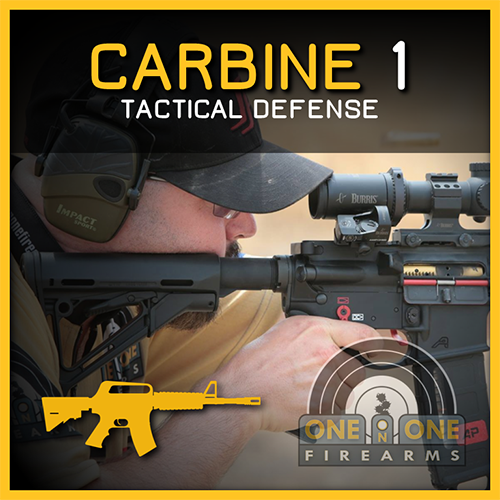 CARBINE 1- TACTICAL DEFENSE | JUNE 15TH 2019, RANGE 9
SKU 00572
Product Details
COURSE DESCRIPTION
It's dangerous to assume than you simply purchase your rifle, place it in the closet, and then tell yourself that you'll be ready when you hear the "bump in the night." There are effective and proven means to evaluate your shooting technique, learn and practice new techniques, and elevate your game. It's called TRAINING!
That's not to say the experienced shooter can't benefit from this class. It can be a great opportunity to validate your current technique, identifying any bad habits or training scars that you might have developed over the years. We can help any shooter make the transition to a more efficient and effective modern shooting technique.

Live to train, train to live…. and ALWAYS shoot to WIN!
---
COURSE OVERVIEW

COURSE LENGTH: 1-Day course 8:00A – 4:00P

COST: $175.00
Range fees of $16 are the responsibility of the student, and can be paid directly to your Instructor on range day.

COURSE OPEN TO: Open to anyone, at any skill level, and ability.

Items Covered in This Course

RIFLE DESIGN AND SET UP
DIS-ASSEMBLY AND CLEANING
LOADING & UNLOADING
RELOADING (TACTICAL and EMERGENCY)
MALFUNCTION CLEARANCES
SIGHTING IN
PRECISION SHOOTING OUT TO 200 YARDS
SIGHT ALIGNMENT, PLACEMENT AND TRIGGER CONTROL
GRIP AND STANCE
RAPID, SINGLE AND MULTIPLE SHOTS
MOVING AND SHOOTING WITH A LONG GUN
MULTIPLE TARGET ENGAGEMENT
SHOOTING FROM COVER
UNDERSTANDING OFFSET AND HOLDOVER FOR COMPENSATED SHOTS
AMMUNITION SELECTION
COGNITIVE SHOOTING DRILLS
---
GEAR & OTHER ITEMS

Students should bring the following items to this course.

A note pad and pen
Drinks, snacks and lunch (lots of water ... we will break for lunch - there is not much by way of food available; you're better off bringing something for lunch)
Your Carbine (semi-auto, pump, bolt or lever action. Bring what you would use for home protection)
250 - 500 rds (depends on your preference) of factory FMJ practice ammo. (no tracers or green tip steel core ammo)
A weapon sling is recommended to reduce fatigue
3 or more magazines for carbines with removable magazines
Mag carriers, Dump Bags or pockets for your mags
Sunscreen or Rain Gear as needed.
---
LOGISTICS
LOCATION: Sacramento Valley Shooting Center – 15501 Meiss Rd. Sloughhouse, CA 95683

TIME: 8:00A-4:00P
RANGE FEES: Range fees of $16 are the responsibility of the student, and can be paid directly to your Instructor on range day.
DIRECTIONS:
The map shown below is for reference only. Often GPS and maps get directions to this facility wrong! Please refer to directions on getting to the range on the SAC VALLEY SHOOTING CENTER website athttp://www.sacvalley.org/contact.html.
Save this product for later