CARBINE - DEFENSIVE CLOSE QUARTERS | OCT 20, 2018 RANGE 2-1
00491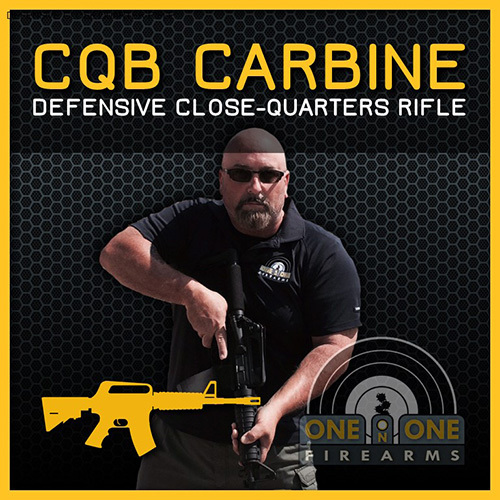 COURSE DESCRIPTION
In defensive scenarios, it's likely you'll have to setup and run your rifle/carbine indoors and/or in other close-quarters environments. The focus of this class is to familiarize students with appropriate techniques to be able to effectively run their carbines in these "tight" situations. The class will include numerous live-fire drills. firing at an accelerated cadence at CQB distances. In addition, students will learn the best accessories for their carbine to suite the CQB environment..

---
COURSE OVERVIEW

COURSE LENGTH: 1-Day course 8:00A – 4:00P

COST: $175.00
Range fees of $16 are the responsibility of the student, and can be paid directly to your Instructor on range day.

COURSE OPEN TO: You must have successfully completed Carbine class taught by us. We will consider substitution on a case by case basis. The could include having verifiable IDPA, USPSA or 3-gun completion experience or training with nationally recognized instructors. We have to be familiar with their class curriculum!

Items Covered in This Course

RIFLE DESIGN AND SET UP
DISASSEMBLY AND CLEANING
RELOADING (TACTICAL and EMERGENCY)
SIGHT ALIGNMENT, PLACEMENT AND TRIGGER CONTROL
RAPID, SINGLE AND MULTIPLE SHOTS
MOVING AND SHOOTING WITH A LONG GUN
MULTIPLE TARGET ENGAGEMENT
UNDERSTANDING OFFSET AND HOLDOVER FOR COMPENSATED SHOTS
COGNITIVE SHOOTING DRILLS
---
GEAR & OTHER ITEMS

Students should bring the following items to this course.

A note pad and pen
Drinks, snacks and lunch (lots of water ... we will break for lunch - there is not much by way of food available; you're better off bringing something for lunch)
Your Carbine (semi-auto, pump, bolt or lever action. Bring what you would use for home protection)
500 rds (depends on your preference) of factory FMJ practice ammo. (no tracers or green tip steel core ammo)
A weapon sling is recommended to reduce fatigue
3 or more magazines for carbines with removable magazines
Mag carriers, Dump Bags or pockets for your mags
Sunscreen or Rain Gear as needed.
---
LOGISTICS
LOCATION: Sacramento Valley Shooting Center – 15501 Meiss Rd. Sloughhouse, CA 95683

TIME: 8:00A-4:00P
RANGE FEES: Range fees of $16 are the responsibility of the student, and can be paid directly to your Instructor on range day.
DIRECTIONS:
The map shown below is for reference only. Often GPS and maps get directions to this facility wrong! Please refer to directions on getting to the range on the SAC VALLEY SHOOTING CENTER website athttp://www.sacvalley.org/contact.html.