COMPETITION RIFLE-SHOTGUN - JULY 21, 2018 RANGE 11
00492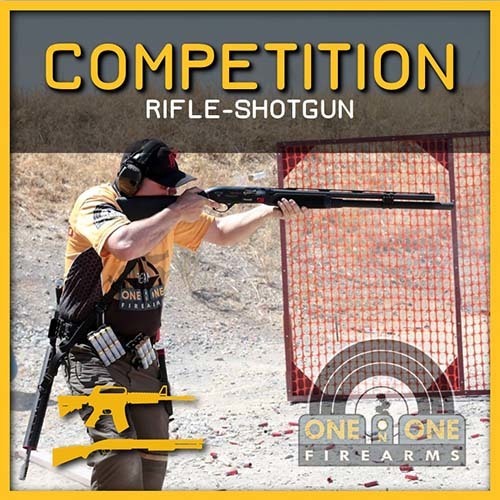 COURSE DESCRIPTION
Most action shooters come to 3-Gun with some experience in handgun shooting, often at a pretty high level. When it comes to the long gun portion of 3-Gun, that's where matches are won and lost! If you are relatively new to 3-Gun, and want to come out of the gates running, or an experienced Multi-gun shooter looking to improve on your match standings, this class is for you!
Our instructors are highly accomplished competitors in numerous action pistol and multi-gun sports.We regularly compete in all the forms of 3-Gun including defensive multi-gun, USPSA, 3-Gun Nation, and "outlaw" multi-gun matches throughout the western USA.We have shot with and trained with the best shooters and finest instructors in the world. Now it's our turn to share those winning strategies with you.
---


COURSE OVERVIEW
COURSE LENGTH: 1-Day course
COST: $200.00
Note: Range fees vary from $5-16 depending on range, and are the responsibility of the student.
COURSE OPEN TO: Students must have shot at least one IDPA, USPSA, Wild Bunch, or 3-Gun match and/or have an acceptable level of handgun training from ONE on ONE Firearms (Level 2 handgun minimum.) Other previous training experience may be allowed at the instructor's discretion.
Items Covered in This Course:
Equipment Selection & Setup
Personalized Skill Assessments
Accelerated Live-Fire Drills (Multi-Gun intensive)
Malfunction Clearances
Stage/Firearm Transitions
Reloading the Shotgun
Using a Sling for Competition
Efficient Movement
Stage Breakdown and Planning
The Psychology of Winning
Dry-Fire Drills
Building YOUR Personal Training Plan



---


GEAR & OTHER ITEMS
Students should bring the following items to this course. This is a competition class, so bring your competition gear, including your match apparel.
Firearms & related equipment: AR15 platform rifle, and a pump or semi-automatic shotgun (bring the guns you do, or will be shooting in competition)
Holster (optional), magazine pouches, shotgun shell caddies on a sturdy belt or competition belt. *
3 or more rifle magazines
Eye and ear protection
Minimum 250 rounds of rifle ammo, 150 rounds of birdshot #6 and up, and 6 slugs. Bring more ammo if you have it… the more you have, the more you can shoot!
A small handheld video camera or cell phone to record video of your performance for analysis
Comfort items - chair, plentiful liquids, snacks/lunch, sunscreen, hat, hand towel
A Great attitude & open mind!
*ONE on ONE Firearms may have magazine pouches and shell caddies available for rental or sale. Contact us to arrange this in advance.
---


LOGISTICS
LOCATION: Sacramento Valley Shooting Center – 15501 Meiss Rd. Sloughhouse, CA 95683
TIME:8:00A-5:00P
RANGE FEES: We will collect range fees from each student from $5-$16, depending on SAC VALLEY SHOOTING CENTER membership status.
DIRECTIONS:
The map shown below is for reference only. Often a GPS will get directions to this facility wrong! Please refer to directions on getting to the range on the SAC VALLEY SHOOTING CENTER website at http://www.sacvalley.org/contact.html.